Central European Affairs Magazine spoke exclusively to Nikolaj Nikitin, one of Central Europe's leading business personalities, in a freewheeling discussion on the state of cinema, with specific emphasis on how the rapidly changing industry continues to adjust to new parameters being set for film festivals worldwide.
While Nikolaj Nikitin was born in Moscow, he is now one of Central Europe's most intriguing film business personalities. Nikitin is the artistic director of the Prague International Film Festival (PIFF), after having previously served as editor of one of Schnitt, one of Germany's highest-circulated film publications. Since 2013, Nikitin also served as director of the School of Film Advancement (SOFA), which has trained professionals about the various needs of audiovisual professionals.
The workshops continue to be held in Tbilisi, Vilnius, and Warsaw, though in recent years, have been conducted primarily online. Nikitin is a film educator and is also a member of many prestigious film societies, including the European Film Academy, the LUX Film Prize, and the Fédération Internationale de la Presse Cinématographique (FIPRESCI).
CEA: How do you assess the current state of cinema and film festivals in early 2022? Where do you think it is headed?
Nikitin: It is still a bit too early to make any kind of predictions. Surely, it is just a changing of the times. But [this Covid era can serve] as a chance [of reflection, too]. It surely has proven that audiences need culture, and films are serious components of it. One especially important insight is that due to the Corona era of the past two years, European film content has very much been in demand and more requested than ever. As for film festivals, we are learning a lot.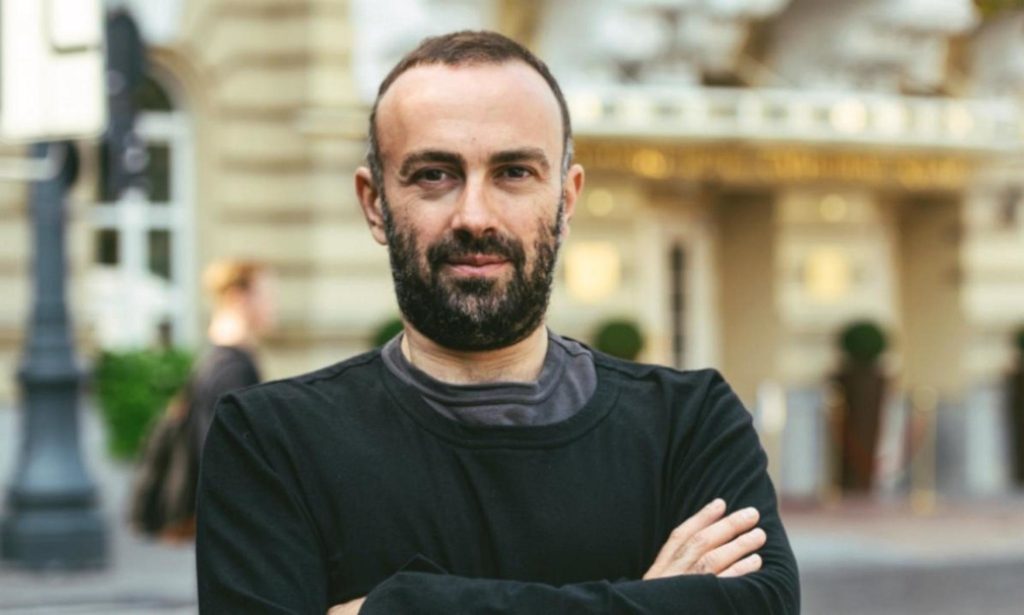 CEA: What have been some key observations you made as film festivals routinely have gone from in-person to online, or at the very least, switching to a hybrid approach?
Nikitin: I believe that the only way in the current world's situation and of course, for the CEE countries, is to keep festivals on-site. We must do [everything] to ensure cinema screenings will continue to happen. The audience will come while following strict measures within local Covid-19 regulations. This includes managing social distance and handing out free masks, which will give audiences the feeling of security and control. This is very much needed right now to lure them to the cinema within these challenging times.
CEA: So, what you are saying is: Nothing is like seeing a film on the big screen!
Nikitin: I see a danger in losing future generations to the home cinema if they do not experience what the big screen has to offer soon. And yes, "You haven't seen a film, even if you think so if it wasn't on the big screen," as the expression goes.
CEA: Give our CEA Magazine readers the impression of what the PIFF has been like in the last couple of years.
Nikitin: Luckily, PIFF was set up right after my own experience at the Venice Film Festival in early September 2020. It worked out very well [as] all-important meetings were held outside, and we also had seated dinners. In cinemas, masks [were worn] all the time — not only during photoshoots but with the short introductions to the films, and during the question-and-answer sessions. Of course, we followed the strict limitations. We were even happier to see that some of our screenings were fully booked according to the accepted capacity.
CEA: Bringing in big-name stars from overseas will still be tough to coordinate, though, right?
Nikitin: Yes, of course. It is almost impossible to attract big names from overseas, especially with a completely new date and on short notice. We are extremely glad that, for example, we had the International Premiere of "We Had it Coming" by the highly gifted director, Paul Barbeau. He also co-produced "Pieces of a Woman" by Hungary's Kornel Mundruczo. Big stars and international VIPs are usually what all film festivals need.
CEA: So, how did the closing film at the 2020 PIFF go?
Nikitin: Hirokazu Kore-Eda, the director of our closing film "The Truth," planned his Prague visit from Japan as a part of a European tour. But, instead of appearing live in Prague, he sent a wonderful video message and told us he is already preparing for his next movie.
CEA: Would you say that international film festivals and film markets are still forging adequate partnerships, which will be essential to overcome many obstacles during these trying times for the industry?
Nikitin: Public partners want to support and help as much as possible as they understand the current situation. I have had talks with two state ministers present at our opening [in 2020] and they were incredibly happy with our performance in reshaping PIFF, especially as it concerns the [need to] focus and reduce its program. By all means, [the sayings] "less is more" and "size does matter" apply to our industry now more than ever.
CEA: In recent years, which films do you regret that could not make their premiere at PIFF?
Nikitin: It was surely a pity not to open the festival as planned with Polish director Agnieszka Holland's "Charlatan." The same goes for, of course, the Russian arthouse hit, "Beanpole" as producer Alexander Rodnyansky was scheduled to introduce it.
CEA: Why types of discussions have you had with sponsors? They are the chief proponents of generating money for film festivals.
Nikitin: One of our main sponsors told me that they appreciated our new approach. We agreed on a strategy and made a clear, consecutive, and constructive five-year plan to develop PIFF as the main audience-friendly public event in Prague. We also agreed that Prague is the perfect location for [facilitating] this. The audience has already proved us right. People might say that we got lucky, but honestly, I do not believe much in luck but [through the implementation of] experience, research, knowledge, and strategy.
CEA: I assume that most of the workshops for the School of Film Advancement – SOFA – have all gone online recently? As a result, have you lost a great deal of business?
Nikitin: With already [several] online workshops [in the past couple of years] in Tbilisi, Vilnius, and Warsaw, our budget has remained the same. Only one of our various partners had to cut their support for very understandable reasons, luckily. We have also made new development projects. It was amazing to see [this upward trend] during the pandemic, SOFA's alumni managed to start Crew United Poland and Endorphin World Sales.
CEA: So, such breakthroughs like these have made you an optimist as a film professional?
Nikitin: The only thing I truly know is that nobody can predict anything right now with certainty. Two years ago, it worked out fantastic as we almost lost no titles. But as for the few ones we lost, we understand fully why.
CEA: With PIFF still slated for Sept. 15-18 later this year, what can you assure film audiences and film professionals leading up to it?
Nikitin: We will focus on European, regional, and of course, local talents. We will follow all the rules and be prepared for the unexpected.
Cover photo credit: Nathan Engel, Pexels.com
Jared Feldschreiber is a freelance reporter and contributor to Central European Affairs Magazine. He is based in Warsaw, Poland, and often chronicles literary figures, filmmakers, and dissidents in nascent democracies. Reckless Abandon, his novella, is available worldwide.
Twitter: @jmfeldschreiber
Photo credit: Ilan Sherman