Israel has been bombarded by a barrage of rocket fire by Hamas and other Jihadi groups emanating from Gaza this week causing it to recalibrate its national security strategy. Israel's doctrine of deterrence hangs into balance how ever long this dangerous round of violence may last.
Author: Jared Feldschreiber
In August 1988, the Islamic Resistance Movement, also known as Hamas, created its covenant, in which it advocated for "the promotion of destroying the State of Israel through Jihad." In its preamble, it underscored that "Israel will exist and will continue to exist until Islam will obliterate it. The day the enemies usurp part of Moslem land, Jihad becomes the individual duty of every Moslem. In the face of Jews' usurpation, it is compulsory that the banner of Jihad be raised."
Violent unrest in Israel in recent days has happened in breakneck speed, with no end in sight. On May 10, France 24's Irris Makkler reported that "the explosions were very close to Jerusalem. The Knesset had to be cleared. This had come from Hamas. Hamas had issued an ultimatum that Israel had to do by 18:00 p.m., including releasing all of the Palestinian prisoners, removing themselves entirely from the Al Aqsa Mosque, and when that didn't happen, this is the response. So we are seeing an escalation on top of an escalation."
Khaled Abu Toameh, in his Jerusalem Post article on May 11, conjectured that "regardless of how the current round of fighting between Israel and Hamas ends, the Gaza-based terrorist group believes it has already managed to obtain a number of achievements, especially with regard to scoring points with the Palestinian public." Abu Toameh explained that by "exploiting the planned eviction of a number of Palestinian families from houses in Sheikh Jarrah and visits by Jews to the Aqsa Mosque compound on the Temple Mount, large demonstrations began in support of them." He added that,"many Palestinians began chanting slogan praising commander of Izzadin al-Qassa Mohammed Deif, the so-called 'military wing' of Hamas. Above all, the Palestinians now believe that Hamas, a terrorist entity, is the only faction will to stand up against Israel to defend Islam's third-holiest site and thwart Israeli conspiracies against Palestinian residents of Jerusalem."
In light of the recent bombardments all throughout Israel, which include at least 1400 rockets raining down on its cities, its military brass launched Operation Guardian of the Walls. Benny Gantz, Israel's Defense Minister, stated that Israel's goal with its ongoing strikes in the Gaza Strip in response to rocket fire has been to severely weaken Hamas in order to restore calm. Gantz promised to take Gaza terror groups "years back," as Israel has already killed many Palestinian Islamic Jihad commanders, which had perpetrated the series of attacks. But the battle is still a far cry from being settled, and it is clear that Israel was caught off-guard by Hamas's brazen aggression.
Israel has lost over seven people since this round of the conflict began, including reports of two women who were killed because they had not been able to get to their shelter in time. The Israeli Defense Forces also announced on May 12 that 21-year-old Omer Tabib, a first sergeant who was just a month away from completing his military service, was killed by a Hamas anti-tank missile near a border with the Gaza Strip.
The latest confrontation with Hamas occurred just as Israel had been preparing itself for a potential 'changing of the guard' of leadership. The country was only days away from an "anti-Bibi" bloc were convening to try and forge a majority in the nation's convoluted political apparatus. Their hope is to unseat Benjamin Netanyahu who failed in his bid to arrange a coalition just last week. The "anti-Bibi" bloc still has until June 2 to try and form a government, but volatile recent news has postponed it.
Instead, Israel has endured sirens blaring all within its borders, and into the early mornings. In some cases, these sirens have gone off at 3:00 a.m. in its second largest city, Tel Aviv, and neighboring suburbs like Holon and Givatyim. One rocket earlier in the week struck next to a bus which injured four people, including two of them seriously, and two others moderately, The Times of Israel reported. The Israelis also had struck a high rise building in Gaza, which housed the offices of several top Hamas officials. On May 13, "seven Israelis were killed and dozens injured as cross-border fire between IDF troops and [terrorist organizations] in the Gaza Strip, including a barrage of rockets on the Tel Aviv area. This followed an Israeli strike that brought down a high-rise in Gaza City used by Hamas' political leadership," as reported by HaAretz.
Reporters, academic analysts, and community leaders, have been severely shaken by the dangerous, lethal and unpredictable series of events unfolding in Israel. The timetable of how long it will drag on is any one's guess, though the political ramifications also could not be any higher.
"This has been massive terror by Hamas, and you can't give into terror of this scope," Liat Collins, Editor of the International Jerusalem Post, tells CEA. "Obviously, the army's mental calculus was based on a feeling of the principle of deterrence since the 2014 Gaza War, which Hamas was able to fire rocket attacks sporadically. It was met with very little response and empty targets with no real results. There's been a lack of deterrence, and clearly the deterrence has to be returned. The question is how to do this so the civilians on both sides do not pay an extremely heavy price. I would say that now the main difference is the Israeli military command is targeting the heads of Hamas, and not just symbolic targets. That's the correct target to be going in," continues Collins.
"Maybe a diplomatic blitz to explain what's really going on (will help)," adds Collins. "It is Hamas that is the aggressor. The world doesn't even know what's happening right now. I don't think people understand that Hamas is Muslim Brotherhood; they have a different name. If you call them Palestinian Islamic Jihad, then maybe they get it, but you call them Hamas, and not Muslim Brotherhood, it doesn't really have any impact. They're being treated like 'the scouts movement' instead of a group closer to Daesh (ISIS)."
Meir Litvak, the Chair of the Department of Middle Eastern and African History at Tel Aviv University, and prolific author on Arab affairs, opined that Israel's operations may be limited, and put it into a bind. While restoring calm for its citizens is a priority, "Israel does not have many options against Hamas, because it does not want to reoccupy Gaza," says Litvak. "Retaking Gaza would be too heavy a burden on the Israeli army and economy in the long run. Since 2007, Israel was happy with the split between Gaza and the West Bank, as it could claim that there was no Palestinian party to negotiate with who represents all Palestinians. Thus Israel could hope to preserve the status quo forever. The only alternative to Hamas are Jihadi-Salafists who are much worse."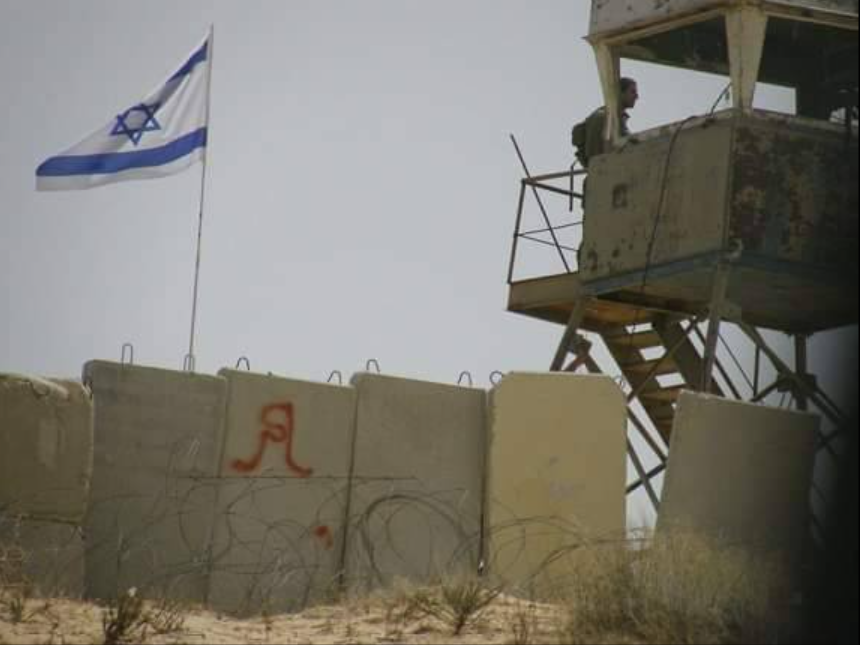 The very notion of deterrence in discussing Israel's security has long been its mission, largely since it is a small country surrounded by so many hostile adversaries, and proxy terrorist organizations. That being said, it is also a country with considerable military capabilities, which has made it increasingly feared, respected, and conversely, excoriated by the world. "We have a unique military problem: We are few while our enemies are many – and the number is a major military factor. So what has helped us to survive until now and what will help us in the future? Only our qualitative advantage," David Ben Gurion, the country's first prime minister famously said just a few years after the founding of the country. Ben Gurion meant that Israel needed to maximize its ingenuity and capabilities internally to best defeat neighboring aggressors seeking its destruction.
Liat Collins calls it a "toxic mix that created a perfect storm." She looks to the end of Ramadan, the pending eviction of Palestinians living in the East Jerusalem neighborhood of Sheikh Jarrah, and the onset of Nakba Day – or Day of Catastrophe, the Palestinians' answer to the creation of the State of Israel, – all contributing to the worsening situation.
"I think what was overlooked was the terror attack last week in which Yeshiva student Yehuda Guetta was killed in a drive-by shooting in the West Bank," Collins tells CEA. The 19-year-old Jerusalem resident was among three students who had been shot at a bus stop. "There were other thwarted attempts or non-fatal attacks, which also occurred last week. That was also another case of Hamas heating up the area. Also, the internal struggle between Hamas and Fatah with the cancellation of the Palestinian elections is obviously a factor. Jerusalem is an easy rallying cause. It's an international rallying cry, in the eyes of the world community, as it's recognizable in the Arab and Muslim world. So it's very easy to use that as a battling cry and unite people."
European diplomats have had an impossible time at grappling with the complexities of the Arab-Israeli conflict in recent years. Many believe that a 2-State solution remains the best process for sustainable peace, but often ignore some of the long histories of the Arab world with the Jewish State. They believe that Israel, as a sovereign nation, which controls some aspects of day-to-day living in Gaza and the West Bank, must release its strict policies against Palestinians. In general, these diplomats believe the easing of tensions will create more freedom and opportunities for civilians living in these areas.
Jonathan Ornstein, the Executive Director of the Jewish Community Center in Krakow, Poland, believes that this type of sweeping approach underlines a "thinly veiled or naked anti-Semitism," particularly as Palestinian terrorism is rewarded at the expense of Israel's right to self-defense.
"For 2000 years, there has been hatred and unfair treatment of Jews, and it is naive to think that a Jewish State would be treated normally," Ornstein tells CEA. "What we can do is continue telling the truth and to try to build relationships with partners in the region. I think what the world doesn't get is that the Palestinians would give up violence if the world stopped encouraging them. A universal worldwide rejection of terror against Jews and Israelis would help them understand that a negotiated peace is the only solution. They are fed this hope of getting the entire area, which is never going to happen."
Ornstein, a New York native who has lived in Krakow for over a decade, became the city's Jewish Community Center's Executive Director in 2008.
Israel's superior military capabilities have made it dangerous, even villainous, to Palestinian sympathizers worldwide, contends Ornstein. "I think the world's tacit acceptance of terror against Jews is a form of cultural imperialism. It's as if the Muslims can't control themselves and mustn't be 'set off.' It's the soft racism of low expectations. The Palestinians need to accept that an imperfect deal is better than what they have now. Also, there needs to be a sane process of removing some of the Jewish settlements so there's a sane place for a future Palestinian state.
"Israel can hope to deal a blow to Hamas to bring about a ceasefire and then search for some 'ordering' (interim tactical agreements on pressing issues) in order to extend the ceasefire," Meir Litvak also tells CEA. "Hamas wanted it in the past, but the price it demanded was far too high. Many in the world believe that two-states will bring peace. I doubt it, not only because of Hamas, but for many other reasons as well, such as the Palestinian demand for the return of the refugees. But politics, is the art of the possible not the desirable. The one-state solution we are heading to is worse," concludes Litvak.
Cover photo credit: Amir Cohen, Reuters
Jared Feldschreiber is a freelance reporter and contributor to Central European Affairs Magazine. He is based in Warsaw, Poland, and often chronicles literary figures, filmmakers, and dissidents in nascent democracies. Reckless Abandon, his novella, is available worldwide.
Twitter: @jmfeldschreiber
Photo credit: Ilan Sherman