The latest Civitas Institute public opinion poll has received heavy media coverage in Hungary. Here is how the findings of our poll have been received by media outlets and public figures.
Everything is possible: a lie-free introduction to the 2022 election odds

"The good will and truthfulness of the two Civitas staff members is not in question, they have studied enough political science to put together a better opinion poll than the Hungarian average. Nor is it unbelievable that their partner institution, with its founders are committed to building a democratic and Western Hungarian conservative party, can finance a series of opinion polls. The report is attractive, and makes a better professional impression than the two-page spreads of the Republikon Institute or the little pieces of color, intended as propaganda filler for the Nézőpont Institute's KESMA products. In addition, Civitas did not force the political message, like the Századvég research reports, but left it over to Péter Márki-Zay. In contrast to Tibor Szanyi's attempt in February, drowned in disinterest, Zoltán Kész and his team really did show off their troll-like skills in the world of political opinion polls in Hungary. Why not believe them?"
---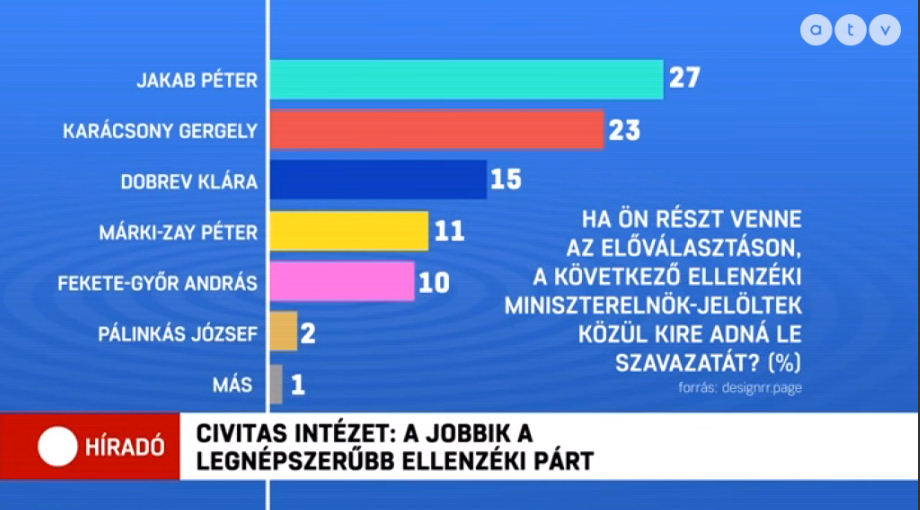 "Fidesz-KDNP won the parliamentary elections for the third time in a row in 2018. They won by two-thirds, but in recent months several research institutes have polled the lead of the united opposition. However, a recently published poll by the Civitas Institute shows a different picture, namely that Fidesz-KDNP has a substantial lead, with 54% of the Hungarian voters voting for the ruling party.

"We often see the opposition parties are luring themselves into the fact that they have such and such chances. Yes, they have a chance, even a good chance, but we must not forget that the work needs to be done mainly in the countryside," Zoltán Kész, the head of Civitas Institute, said."

Watch the video by clicking HERE.
---
Is the opposition looking for a recipe for success from the US?

"In the world of international law and diplomacy, interfering in another country's elections is one of, if not the most serious offences and the most offensive accusation. Yet, from time to time, some governments try to make an attempt. However, we can hardly think of an example where, in order to gain power, a country's opposition is directly asking a larger and richer state to interfere in elections in order to ensure the fairness of the election… Who can understand this self-contradiction? In any case, it looks increasingly as if the opposition parties are looking to the US for help: it is no coincidence that they were so pleased with Joe Biden's victory. This may be indicated by the fact that former opposition MP Zoltán Kész has activated himself too: for about two months, he has been producing podcasts in English with national and foreign politicians and analysts under the brand CEA Talks."
---
Tibor Szanyi, president of the Yes Solidarity for Hungary Movement

"Yes Solidarity is also present in the polls! A recent survey by the Civitas Institute shows that among the undecideds, non-respondents and other party voters, Yes Solidarity voters are present in the overall population, as already confirmed by several other pollsters."
---
Péter Márki Zay, co-founder of the Everybody's Hungary Movement

"A POLL NOT COMMISSIONED BY PARTIES
In recent weeks, parties have published and advertised opinion poll results ordered to support their own candidate and party, which is understandable, but misleading. After the credible results presented by Medián, it is worth informing ourselves and BUILDING on the findings of another independent study. Deceiving ourselves is a sure recipe for failure."
Cover photo credit: Markus Spiske, Pexels.com